Free Gaza. End the Blockade. End the Occupation. Call your representatives. Join your local protest. Boycott Sodastream.
Borrowed from AUPHR (Americans United for Palestinian Human Rights) website, our local Palestine Solidarity group.
1250 Protesters in Portland join global actions against the Massacre in Gaza
Friday, 25 July 2014 10:36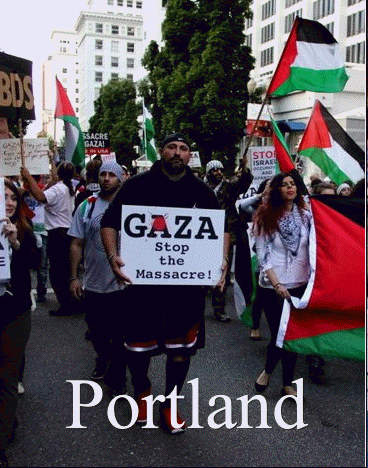 PORTLANDERS SAY "NO MORE US BOMBS ON IRAQ"
Written by Peace and Justice Works Iraq Affinity Group (IAG)
Friday, 25 July 2014 08:45
NEWS ITEM
For immediate release July 25, 2014
PORTLANDERS SAY "NO MORE US BOMBS ON IRAQ"
US Policy Stokes Flames of War from Libya and Israel/Palestine to
Pakistan and Ukraine
Saturday, July 26, 2014, 12:00 Noon, Terry Schrunk Plaza SW 3rd & Madison
At noon on Saturday, July 26, Portland area groups will gather
at Terry Schrunk Plaza, SW 3rd and Madison, across from Portland's
Federal Building, to raise the cry "No More US Bombs on Iraq."
As of July 9, President Obama had sent at least 800 US troops,
ostensibly "advisors," to Iraq.[1] Although it is claimed they
will not engage in combat, there has already been talk of using
drones, cruise missiles, and Apache attack helicopters piloted by some
of these "advisors."[2] The potential for the situation to engulf
a much broader conflict is heightened by the fact that Syria[3],
Iran[4], and Russia[5] already have actively engaged
militarily in Iraq on the same side the US wishes to support, even
though the US' position on those countries' stance in next door
Syria's civil war is completely opposite.
Read more: PORTLANDERS SAY "NO MORE US BOMBS ON IRAQ"
Get your PDX SodaStream Boycott petition here!
Written by Portland SodaStream Boycott Coalition
Thursday, 24 July 2014 14:54
Petition to stop selling SodaStream products
Please print out a copy and have your friends and family sign it!
Dear Target Galleria / Macy's / Kitchen Kaboodle Store Manager,
As a person of conscience, I call on you to stop selling SodaStream carbonation devices
SodaStream devices are made in an Israeli settlement in occupied Palestine.
These settlements exploit Palestinian land, labor and resources.
They are illegal under international law and are obstacles to peace.